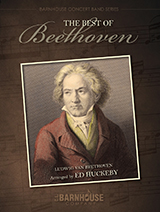 The Best Of Beethoven
There's no better way to celebrate the 250th anniversary of Beethoven's birth than with this dramatically-charged band arrangement containing excerpts from six of his most famous works! From the opening strains of the "Pathetique" to the final chords of the 1st Movement from his iconic "Fifth Symphony," this work provides an exciting sampler of the master's best! Also included are excerpts from "Fur Elise," "Moonlight Sonata," "Symphony #3" ("Eroica") and "Symphony #9" ("Choral"). This outstanding mix is destined to become a frequently programmed classic presentation of Beethoven's music.
Now go add some variable products!