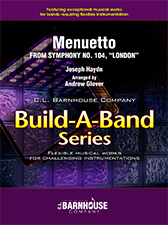 Menuetto
From Symphony No. 104, "London"
Joseph Haydn Arranged by Andrew Glover
Joseph Haydn's music is beloved worldwide as the very best of the Classical era. Of his "London" Symphonies, the Symphony No. 104 is perhaps the most famous, and the delightful "Menuetto" movement is now available for flexible instrumentation bands in the Barnhouse "Build-A-Band" series. Requiring as few as five players, this charming work from the orchestral world will be a highlight of any band concert program. Great music!
Product
SKU
Price
Quantity
Full set
026-4804-00

$

60.00
Extra full score
026-4804-01

$

7.00
Oversized, spiral-bound score
026-4804-75

$

25.00
MP3 Download
026-4804-85

$

1.00