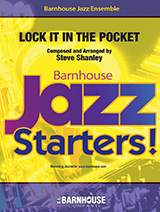 Lock It In The Pocket
Need an easy introduction to the swing style for your beginning jazz band? Look no further than "Lock It In The Pocket!" Horns play slurred eight note lines and staccato quarter notes. Clearly written rhythm section parts are perfect for bass and drum set players who are just starting. The solo section allows students to take very short solos, and only requires a few pitches (supplied right on their part!) – perfect for young jazzers! Playable with reduced or expandedinstrumentation and optional auxiliary percussion, "Lock It In The Pocket" will be a hit at your first concert.
Now go add some variable products!