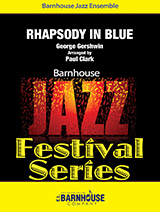 Rhapsody In Blue
Gershwin's classic "Rhapsody In Blue" is now available for jazz bands with this brilliant arrangement by Paul Clark! All the main themes are here in a variety of styles, and individual instruments (cued in other parts) are featured throughout. The optional open solo section is based on chord changes familiar to most players._x000d_
A truly amazing showcase for both bands and directors! A great American musical classic, reinvented for jazz ensemble – who could ask for anything more?
Now go add some variable products!