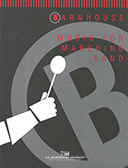 Meet the Flintstones
Hanna, Barbera and Curtin Arranged by Andy Clark
THIS TITLE IS OUT OF PRINT AND CANNOT BE SOLD BY C. L. BARNHOUSE.
While we have a "never out of print" policy, the copyright to this publications is owned by a party other than Barnhouse.  Our license to produce our publication of this title has expired.
Any inquiries regarding recording, copying, or other use of this product should be directed to the copyright owner.