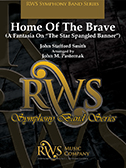 Home Of The Brave
A Fantasia on "The Star Spangled Banner"
John Stafford Smith Arranged by John M. Pasternak
Home Of The Brave stems from a final sentence in the Star-Spangled Banner – that the United States' flag would forever stand. John M. Pasternak takes a contemporary approach to the Star-Spangled Banner as the melody line is woven through various instruments as solo lines on top of new and intriguing harmonies. The work culminates with the traditional playing of "O say does that Star-Spangled Banner" and then fades into the distance.
Product
SKU
Price
Quantity
Full set
RWS-1801-00

$

99.00
Extra full score
RWS-1801-01

$

15.00
Oversized, spiral-bound score
RWS-1801-75

$

30.00